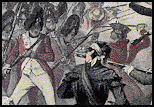 Israel Potter: His Fifty Years of Exile
A page from The Life and Works of Herman Melville

Israel Potter: His Fifty Years of Exile:
---
First published in serial form in Putnam's Monthly Magazine from July 1854 to March 1855. First American edition published in March 1855 by G. P. Putnam & Co., New York. First British edition bound and distributed from imported American sheets by Sampson, Low, Son & Co., London. A second, unauthorized version of Israel Potter was published in Great Britain in May 1855 by George Routledge.

Return to the top of this page


Return to Melville Home Page
---
The traveller who at the present day is content to travel in the good old Asiatic style, neither rushed along by a locomotive, nor dragged by a stage-coach; who is willing to enjoy hospitalities at far-scattered farmhouses, instead of paying his bill at an inn; who is not to be frightened by any amount of loneliness, or to be deterred by the roughest roads or the highest hills; such a traveller in the eastern part of Berkshire, Mass., will find ample food for poetic reflection in the singular scenery of a country, which, owing to the ruggedness of the soil and its lying out of the track of all public conveyances, remains almost as unknown to the general tourist as the interior of Bohemia. --opening paragraph

Return to the top of this page


Return to Melville Home Page
---
Mr. Melville's works are unequal, but none of them can be charged with dullness.... Among the famous, Benjamin Franklin, and Capt. Paul Jones, have a part to play in this veritable history, which is a mixture of fun, gravity, romance and reality very taking from beginning to end. It will take its place among the best of its predecessors, and may certainly be said to belong to American literature. --New Bedford Daily Mercury, March 12 1855

Israel Potter is well known to the readers of Putnam's Magazine. It is now published as the work of Herman Melville, whose earlier productions placed him high among our writers of fiction, but whose late works have been unsatisfactory, not to say ridiculous.... Mr. Melville has made a most interesting book from the facts at his command -- a book, not great, not remarkable for any particular in it, but of a curt, manly, independent tone, dealing with truth honestly, and telling it feelingly. Its Paul Jones and Benjamin Franklin, to be sure, are not without a spice of Melville's former "humors," as they used to be called; but upon the whole, its style, sentiment, and construction are so far above those of Pierre and some of its predecessors, that we dislike to say one word against it. It is a readable book, with passages and descriptions of power. We trust its successor will be quite as sensible, but be of wider scope and a larger subject. --Charles Gordon Greene, in Boston Post, March 15 1855

A downright good book, though five years, in place of fifty, would have been a more appropriate title, seeing that forty-five of them are shuffled off in a few pages at the close. But that's a trifle. There is in it a masculine vigour, and even a certain fantastical ruggedness, that separate it from the herd of smoothly-written tales, and give it, so to speak, a distinctness and raciness of flavor....
Franklin and Paul Jones are admirable sketches of character; but our author, as we know of old, is on his own special element when he deals with the sea and its belongings. The fight between the Serapis and the Bonhomme Richard is a masterpiece of writing; albeit some may deem its imagery too fanciful and far-fetched. Perhaps it is -- but it helps the description wonderfully....
Of course, the Revolutionary War, in its principle, as in the details that come under notice, is not touched up to the exact taste of some British readers. But Mr. Melville, though American enough to be a Know-Nothing, has a plain way of speaking. --William Young, in New York Albion, March 17 1855

Mr. Melville's new volume, we think, scarcely sustains the reputation which he won by the earlier productions of his pen. In them he entered upon a comparatively uncultivated field; and by the freshness of his manner and the romantic interest of his narrative he at once gathered a rich harvest of popularity among readers of every degree of culture. But in his later works (and especially in the volume before us) he has dealt with another and very different class of characters, and placed them in circumstances very different from those which gave interest to his earlier volumes; and here his success has been much less apparent. Israel Potter, indeed, notwithstanding some fine passages and some skilful descriptions, is rather heavy reading. Its style is, in the main, flowing and graceful, and its tone genial and healthy; and yet the author fails to interest us very much in the fortunes of his hero. His character, in truth, lacks those elements which arrest and enchain the reader's sympathies; and, at the best, it is only a feeble delineation of a very commonplace person. Nor are the other characters portrayed with greater skill. In our author's delineation, Dr. Franklin's homely wisdom and shrewd philosophy degenerate into ridiculous cant and officious imbecility; and the portraiture of Paul Jones seems almost equally infelicitous. There are, however, some vigorous descriptions of the exploits of this remarkable man on the coasts of Scotland and Ireland, which constitute, perhaps, the ablest and most interesting part of the volume. But from this praise we would exclude the account of the battle between the Bon Homme Richard and the Serapis. A battle so sanguinary and brutal in its whole character cannot form an attractive episode in a work of high art; and it is to be regretted that Mr. Melville should have dwelt so minutely upon its details. --Boston Christian Examiner, May 1855

This is a curiously unequal book. The subject -- the adventures of a Yankee prisoner in England at the time of the American War -- is an admirable one; and the treatment, for a little more than the first half of the volume, shows such vigour, freshness, and artist-like skill, that as we read on to the Fourteenth Chapter, we felt disposed to rank Israel Potter as incomparably the best work that Mr. Melville had yet written. The characters introduced -- including, besides minor celebrities, George the Third and Doctor Franklin -- were conceived and developed with such genuine dramatic feeling; the incidents were all so striking, and many of them so original, and the style, bating an occasional Americanism, was so hearty and graphic that it was quite refreshing to read the book, after the trash we have had to examine lately, in the vain hope of discovering something worthy to be recommended to our readers. After the Fourteenth Chapter, however, we were sadly disappointed to find that the work began to decline steadily in literary merit, and, excepting one or two detached scenes, to grow duller and duller the nearer it got to the end. The main causes of this curious falling off we found to be obvious enough. In the first place, the least successful character in the biographical story -- Paul Jones -- is the character which is most fully developed in the latter portions of it. In the second place, Mr. Melville follows his hero's fortunes, from the time of his being taken prisoner by the English, with great minuteness in the beginning and middle of the book, and then suddenly generalises towards the end for the sake of getting to the death of "Israel Potter," without exceeding the compass of one small volume. This is a fatal mistake in Art. An author who ceases to be general and becomes particular, is certain of exciting his readers' interest. But an author who ceases to be particular and becomes general, in all cases where the drawing of human character is in question, is sure to lose his hold of the reader in the most disastrous manner. Mr. Melville may urge truly enough, that in writing of "Fifty Years of Exile" in a man's life, it was absolutely necessary for him to generalise somewhere. We have only to answer that he had better have generalised anywhere rather than in the latter portions of the story. If he had left his hero's life in London and death in America for another volume, and if he had drawn his pen through at least half the sea-scenes in which Paul Jones figures, he would have given us, not only his best book, but the best book that any American author has written for a long time past. As it is, Israel Potter is the work of an original thinker and vigorous writer, damaged by want of constructive ability -- or, in plainer and shorter words, by want of Art.
Defective, however, as it may be, we can honestly recommend our readers to buy this book, if only for the sake of reading the interesting and powerfully-written chapters which describe the American prisoner's early career in England -- and especially that particular chapter which narrates his interview with Doctor Franklin. We should feel tempted to extract some part of this latter passage in the story if we had space enough to do the author justice. --London Leader, May 5 1855

Mr. Melville's books have been from the outset of his career somewhat singular, -- and this is not the least so of the company.... [W]hether Israel Potter be man or myth, he is here set in a strange framework. Mr. Melville tries for power and commands rhetoric, but he becomes wilder and wilder, and more and more turgid in each successive book.... Benjamin Franklin, it is true, is painted in less peculiar colours than those employed to blacken the "City of Dis." But the philosophical printer, however available for the purposes of such a nice observer and delicate delineator as Mr. Thackeray, retains neither bone, blood, nor muscle when dealt with by such a proficient in the "earthquake" and "alligator" style as Mr. Melville. He is selfish in his prudence, and icy in his calmness, -- rather weak and very tiresome. Such, we take it, was not the real Franklin. On the other hand, Paul Jones is a melo-dramatic caricature -- an impossible mixture of a Bayard and a bully; and in a book where scene-painting has been tried for, we have encountered few scenes less real than the well-known attempt to burn Whitehaven, and the descent on St. Mary's isle, as told in Israel Potter. Mr. Melville, to conclude, does not improve as an artist, yet his book, with all its faults, is not a bad shilling's worth for any railway reader, who does not object to small type and a style the glories of which are nebulous. --London Athenaeum, June 2 1855

Return to the top of this page


Return to Melville Home Page


Please address all correspondence on this Site to jmadden@mail.multiverse.com
The Life and Works of Herman Melville is brought to you by Multiverse.